Be sure to bookmark this page so you can return and download the newest episodes!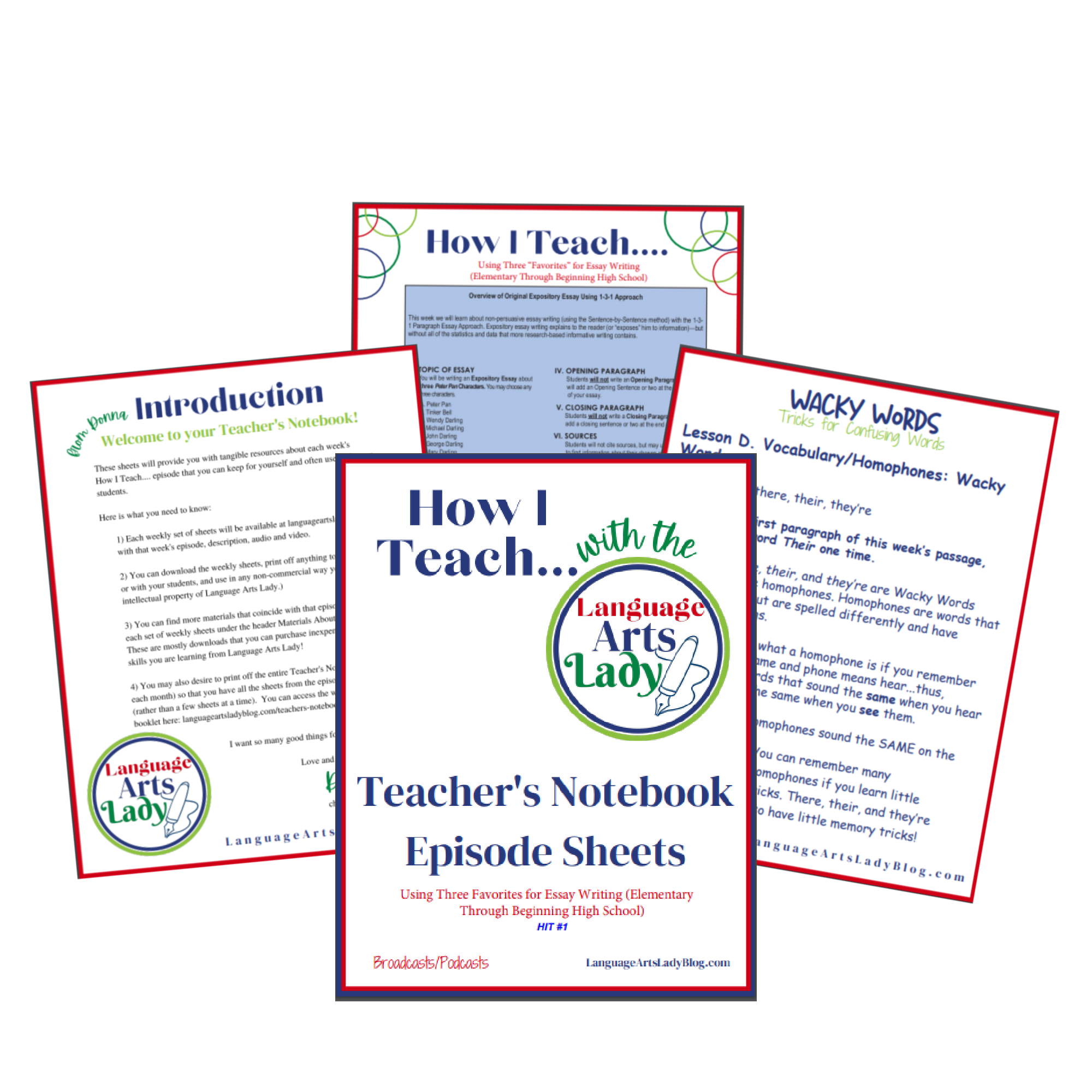 Click HERE to download one file containing all current Teacher's Episode Sheets.
Episode #1 – Using Three "Favorites" for Essay Writing (Elementary Through Beginning High School)
Episode #2 – Writing a Very Short Story (Junior High and High School)
Episode #3 – Beginning Sentence-by-Sentence Writing from a Source
Episode #4 – Beginning Research Writing (4th-8th grades)
Episode #5 – Sentence-by-Sentence Outlining from a Given Source
Episode #6 – Twice-Told Tales (Story Writing Spin-Off Stories)
Episode #7 – Beginning Paragraph Writing With a Paragraph House
Episode #8 – Spelling Practice for All Grades
Episode #9 – Student Editing and Revising With a Checklist Challenge (for Middle & High School)
Episode #10 – The Dialogue Story for 6th through 12th Graders
Episode #11 – Original Short Story Writing (part one)
Episode #12 – Original Short Story Writing (part two)
Episode #13 – Fun 3 or 5 Paragraph Essays
Episode #14 – First Person Essay Writing – YOU Are The Character!
Episode #15 – Very Short Descriptive "Story" for Junior High
Episode #16 – One Paragraph Favorite Essay/Report for Elementary Students
Episode #17 – The Color-Coded Checklist Challenge for Revising Papers From Third Grade On! (Part I of II)
Episode #18 – The Color-Coded Checklist Challenge for Revising Papers From Third Grade On! (Part II of II)
Episode #19 – Beginning Think Fast Grammar Quiz
Episode #20 – How to Turn Any Passage Into Writing Source Material for Middle Schoolers
Episode #21 – Intro to Parts of Speech and Articles (Noun Markers)
Episode #22 & #23 – Twice-Told Tale Writing for Junior High and Up (Amazing Intro to Story Writing!)
Episode #24 – Quotation Inclusion for Essay Writing—Junior High and High School
Episode #25 – Dialogue for Upper High School Story Writing (Part I of II)
Episode #26 – Dialogue for Upper High School Story Writing (Part II of II)
Episode #27 – Descriptive Writing for Young Writers Using a Paragraph House Outline
Episode #28 – Descriptive Writing Using Describers and Literary Devices Middle School
Episode #29 – Memorizing of Advanced Grammar Lists
Episode #30 – Student Editing/Revising With a Checklist Challenge (Middle School and High School)
Episdoe #31 & #32 – Editing Junior High and High School Student Papers
Episode #34 – The "Research-Based" Essay for Junior High and High School (Surviving in a Jungle)